The beginning…
In 2004 First Sofia Mathematical High School Ltd. received a license from the Minister of Education to open the First Private Mathematical High School as a profiled high school with a profile in Natural Sciences and Mathematics.
Since 2011, the school has opened its doors for an introductory course, which has been separated into a separate institution Private Primary School "Pitagor".

In recent years, First Private Mathematical High School has established itself as a leading and sought-after school, which is evident from the results of the National External Assessment and the State Matriculation Exams, ranking third in terms of achievements and results among all Sofia schools.
of our students continue their education in higher education institutions
from our graduates are accepted by first choice in the best universities in the world
realization of our students in FPMHS and in the most prestigious Sofia schools
Some words
by our founder and director
Dear students, present and future,
I'm sure the process of education only begins in school because modern man learns throughout his life. At First Private Mathematical High School we will help you make the first step with more confidence, we will guide you through the secrets of science and arts, we will immerse you in the traditions of our people and I believe that together we will discover that priceless gift that each one of you carries inside.
News and Announcements
Learn more about our school. Current news, events and announcements from our students, teachers and management.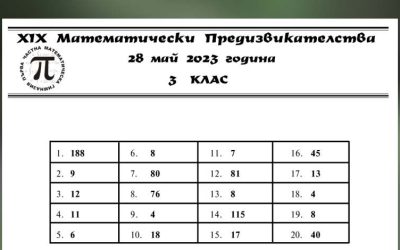 Final results of Mathematical Challenges 2023: 3rd grade 4th grade 5th grade 6th grade 7th grade The contests will be held from 16:30 to 17:30 in room 3 of...